Lorian Hemingway Short Story Competition 2023:
Winners and Honorable Mentions
Our 2023 competition received over 800 entries from around the globe. We are grateful, as always, for your having entrusted your stories to us. Please know that I will be following up soon with a letter to the writers, and that this will appear soon on our website. Because of the month's delay in our announcement of the winners and honorable mentions, I am rushing to get this out so you may all see the results. You have all been so patient and kind and understanding. Thank you so much for your well wishes while I recovered! More to come soon! Be safe. Be well.
– Lorian
First-place receives a cash prize of $1,500 and publication on our website
Second-Place and Third-Place receive cash prizes of $500 each
***
FIRST-PLACE WINNER: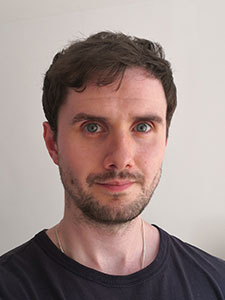 Will Hall
London, UK
For his story: "Emails from an Abandoned Coast"


SECOND-PLACE WINNER:
Jeremy Griffin
Indianola, Iowa
For his story: "Solve"
THIRD-PLACE WINNER:
Richard Attree
Tenerife, Spain
For his story: "The Last Wave"
HONORABLE MENTIONS 2023:
* Please note that Honorable Mentions are listed in no particular order.
1). Ryan McGeeney, North Little Rock, Arkansas, for his story: "Wildflowers in July"
2) Jennifer Peckinpaugh, Lexington, Kentucky, for her story: "The List"
3) Jean Bertelsen, San Francisco, California, for her story: "Weigh the Drift Anchor"
4). Krista Jane May, Saskatchewan, Canada, for her story: "The Colours of Naked Branches"
5). Caroline Li, Arcadia, California, for her story: "Time is Running Down the Road and the Moon is in a Bowl"
6) Joshua Isaac, Milwaukee, Wisconsin, for his story: "A Year on the Inside"
7). Alyssa Fabrizio, Ivyland, Pennsylvania, for her story: "Share Your Umbrella"
8). Tori Shelton, Blackfoot, Idaho, for: 01101110 01101111 01101110 011000010
9). Silke Lambert, Ontario, Canada, for: "A Cup of Coffee"
10). Margo Daly, East Fremantle, Western Australia, for her story: "Forces of Nature"
11). Patrick McCusker, Wicklow, Ireland, for his story: "The Unexpected Challenger"
12). Stanley Brimberg, for his story: "Ghosts"
13). Ashutosh Sahu, Bethesda, Maryland, for: "Deep Archive"
14). Rebecca Buller, Goltry, Oklahoma, for her story: "These Scars of Hers"
15). Robert Hart, Ormond Beach, Florida, for his story: "Two"
16) Elina Apostolatova, Luxembourg, for her story "Getting There"
17). Cain Alexander Stepaniuk, for his story: "Seconds of Spring"
18) Chris White, Milledgeville, Georgia, for: "A Tainted Life"
19). Karen Stone, Seattle, Washington, for her story: "Almost Pegasus"
20). Michael Franich, Milton, Washington, for his story: "Over the Bridge"
21). Maria Grigoryeva, Rome, Italy, for her story: "The darkness of propaganda"
22). Andrew Cataldo, New York, New York, for his story: "Apartment 6E (Eden)"
23). Michael J. Flood, Conway, South Carolina, for his story: "Basho's Horse"
24). Kathleen Crisci, New York, New York, for her story: "The Letter to Lizzy"
25) Annzy Leventhal, University Park, Florida, for: "Now You See It"
26). Sue Purkiss, Somerset, UK, for her story: "A Strange Complicity"
27). Megan Kochanuk, British Columbia, Canada, for her story: "The Hour Between Three and Three"
28). Janine Logan, Babylon, New York, for her story: "A Sad Loaf of Bread"
29). Whitney Crawford, Lynchburg, Virginia, for her story: "The Accomplice"
30). Annie Liu, Beverly Hills, New South Wales, for her story: "Colorful Re-education"
31). Angela Chaidez Vincent, Fresno, California, for her story: "World of Raptors"
32). Alex McWalters, Swannanoa, North Carolina, for: "Jimmy-Jim-James"
33). Arslan Hadzic, Portland, Oregon, for his story: "Under Pressure"