Lorian Hemingway Short Story Competition 2020 Results
Our 2020 competition received 785 entries from the United States and around the world, including: Italy, South Korea, Saudi Arabia, China, Japan, France, Norway, Australia, Germany, Russia, Cypress, United Kingdom, and New Zealand, to name a few.
Our First-Place Winner will receive a cash prize of $1,500 and publication of the winning story on our website. Second- and Third-Places Winners will receive $500 each.
*****
Dear Writers:
This was, of course, an unprecedented year in the history of our competition and, so very sadly, in the history of the world. Our deadlines for entries kept being pushed forward as the COVID-19 pandemic challenged all of us. I do not have words adequate to speak to the immensity of the loss that has been suffered by millions worldwide. It has been, and is, the most heartbreaking time we have ever endured. That there were many stories submitted to our 2020 competition that dealt with the loss, isolation, devastation — and ultimately the pure humanity — of the pandemic is no surprise. That they were each unique in their expressions of grief and empathy and wisdom repeatedly brought me not only to tears, but to outright sobbing. I struggle to hold the tears in as I write this. Never in the history of our competition have I read such raw and poignant words of courage, of hope, of kindness and decency. And never have I read multiple versions of the nightmare that we all kept waking to knowing it was no nightmare. I have written often in the past about your courage as writers. This past year your collective courage washed over me like a tsunami, literally giving me the fortitude to wake and face another day. I am indebted to you for my own survival, and that is no small debt. The thanks I give for your words, your gift, your talent, and your endurance can never be enough. I wish for you each what you have given to me: Peace and comfort and kindness and hope, and the opportunity to write yet another day. Bless you all. Please be safe. Please be well. I love you.
*****
* Our heartfelt thanks go to: David Kashiwagi, Brandi Reissenweber, Naomi Benaron, Dr. Rob Merritt, Megan Woo, Eva Eliot, Carole Hemingway, Jan B. Wright, Dr. Elise Holt, Zoe Elise Thomas, Michael Whalton, Carol Shaughnessy, and David Koontz.
*****
Lorian Hemingway Short Story Competition Winners and Honorable Mentions 2020:
First-Place: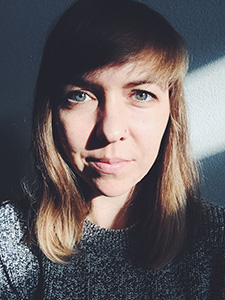 Madison Owens Bakalar
Somerville, Massachusetts
For her story: "So This Is How We Go"
Second-Place:
Jonna Carter
Brooklyn, New York
For her story: "Pre-Existing Conditions"
Third-Place:
Lucy Weldon
Surrey, United Kingdom
For her story: "The Cranes"
HONORABLE MENTIONS:
* Please note that Honorable Mentions are listed in no particular order
1- Anna C. Rumin
Ottawa, Ontario
For her story: "Still Life"
2- Kristina Zamostianova
Kyiv, Ukraine
For her story: "After-dinner sun"
3- Barbara Black
Victoria, BC Canada
For her story:"The Sheen of Ice on Snow"
4- Amy H. Peterson
Estherville, Iowa
For her story: "Elvira the Druggist"
5- Margaret A. Smith
Birmingham, Alabama
For her story: "Class of 2020"
6- George Bandy
Alexandria, Virginia
For his story: "This is Not a Confession"
7- Aisling Watters
Ireland
For her story: "Ragdoll"
8- Halle Ruth
Lakeside Park, Kentucky
For her story: "Mise en Place"
9- Karen Stone
Seattle, Washington
For her story: "Beast, Unchained"
10- MJ Forster
Northumberland, United Kingdom
For his story: "Black Gold"
11- Hardy Griffin
Ithaca, New York
For his story: "Elbistan"
12- Elizabeth McIntosh
Irvine, California
For her story: "L.A. Woman"
13- Pete Hsu
Temple City, California
For his story: "Pluto"
14- Krista Jane May
Saskatchewan, Canada
For her story: "Feathers"
15- Erica Sullivan
Kansas City, Missouri
For her story: "Red's Essence"
16- John Robert Liddell
Toronto, Canada
For his story: "The Only Light We'll See"
17- Margarite Landry
Southborough, Massachusetts
For her story: "PORSCHE"
18- Karmen Spiljak
Sao Paulo, Brazil
For her story: "The Recipe"
19- Michael Franich
Milton, Washington
For his story: "A Night on the Salish Sea"
20- Elizabeth Holland
Maumee, Ohio
For her story: 'Climbing Mountains"
21- Terry Connell
For: "The Tire Swing"
22- Elizabeth Holland
Maumee, Ohio
For her story: "Climbing Mountains"
23- Jen Knox
United States
For her story: "LEO"
24- Ken Moraff
Somerville, Massachusetts
For his story: "Jungle Cruise"
25- Cynthia M. Kraack
Mendota Heights, Minnesota
For her story: "The Art of Honorable Grieving"
26- Alexander Sinclair Lack
Cornwall, United Kingdom
For his story: "The Voyage of Yukimura"
27- Hyo Jin Ryu
Tempe, Arizona
For: "Between Lightness and Gravity"
28- Colin Churchhill Aldridge
For his story: "Sisters"
29- Anna Catanese
Marietta, Georgia
For her story: "Sole Repair"
30- Marie Geraldine Coleman
New Hampshire
For her story: "Begin Again"
31- Joy Ribar
Montello, Wisconsin
For her story: "Sunny, One So True"
32- Laura Jackson
Westminster, Massachusetts
For her story: "Paper Dolls"
33- Ji Run Hong
Paris, France
For: "Woman Walking a Tightrope"
34- Emmett E. Slake
Fuquay Varina, NorthCarolina
For his story: "Passing of a Soldier"
35- Jack Ratliff
Santa Fe, New Mexico
For his story: "Kay"
36- Lily Brock
Herndon, Virginia
For her story: "Mind Your Own"
37- Christian Livermore
Fife, United Kingdom
For his story: "Bluet"
38- Khanh Ha
Silver Springs, Maryland
For his story: "The Red Mole"
39- Colin Brezicki
Ontario, Canada
For his story: "Losing Touch"
40- Amanda Jackson
Washington, D.C.
For her story: "Things I Do Instead of Calling My Ex"
41- Stephanie Drewry
West Monroe, Louisiana
For her story: "WE THREE"
42- Yixuan Jiang
Seattle, Washington
For her story: "Hunbei"
43- Laura Piccinin
Ontario, Canada
For her story: "The Suicide Key"
44- Valentina Tsoneva
Clearwater, Florida
For her story: "The Bridge of Kolyo Ficheto"
45- Caitlin Nicole Evans
Ontario, Canada
For her story: "Robbed"