Lorian Hemingway Short Story Competition
2015 Contest Winners Announced
Our gratitude and thanks go to the extraordinary writers who make the Lorian Hemingway Short Story Competition what it is today: Thirty-five years of a beautiful journey of words crafted from heart and marrow, 35 years of my having had the honor of reading the stories of those who have gone on to make their mark in the world of literary fiction. Some of you have become lifelong friends and shared with me the joy of your success. I am grateful for you all, for enriching the world with your words, for keeping the art of fiction alive. For ignoring the destructive aspects of technology in choice of a life pursuing what means more to you than anything else: Writing! Bless you for your words that so often break my heart wide open. You possess courage beyond measure for having entrusted your stories to another and you will remain, as always, my heroes.
This year we received 857 Stories from the United States and around the world, including Russia, France, Germany, Australia, South Africa, Sweden, Ireland, Scotland, Singapore, Italy and India, to name a few.
Herewith the list of Honorable Mentions and the top three winners in our 2015 competition Our First-Place winner will receive a cash prize of $1,500 and publication in Cutthroat: A Journal of the Arts. Second and Third-place will receive cash prizes of $500 each. Please know that Honorable Mention are listed in no particular order.
2015 Lorian Hemingway Short Story Competition First-Place Winner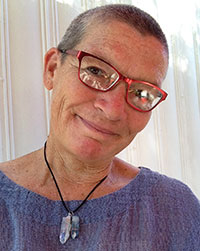 Riba Taylor
Palm Springs, California
For her story "Between my Ribs"
I am a writer and a teacher, but I tend to reverse the order without meaning to, and I've come to accept that often I am indeed a teacher first, though more and more being a writer has come to permeate my days, to live in my cells. I earned my M.A. in English with an emphasis on creative writing from Sonoma State in 2001. I teach online for Mendocino College, having let go of other schools over the years to make more room for my writing. I began writing in earnest 17 years ago, thanks to a one-day writing workshop taught by Robin Beeman (through Sonoma State extension) that welcomed beginners and promised we would walk out of there having written a story. (And I did.) But aside from my first eager attempts to publish my work in The New Yorker (!!), I only began entering writing contests a handful of years ago.
Having "Between My Ribs" win first place in the Lorian Hemingway Short Story Competition is my first real claim to fame. I feel heartened, excited, terrified and thankful. All together I've had six of my pieces make it to the final round in eleven contests. I was born in Germany and live in Palm Springs but am still a northern Californian at heart. I am in love with Mexico and dream of walking the camino de Santiago de Compostela one day (across northern Spain). I am honored to win this contest and grateful to Lorian Hemingway for being so generous with me when she called to tell me my story had won. Her kindness and warmth made winning all the sweeter. I plan to keep practicing my craft for the rest of my life and love picturing a good, messy pile of my published books sitting nearby when I reach the end of it.
FIRST PLACE
Riba Taylor: Palm Springs, California, for her story "Between my Ribs"
SECOND PLACE
Konnie Davidson Risinger:Brandon, Mississippi, for her story "Bowen Avenue"
THIRD PLACE
Ladee Hubbard: Champaign, Illinois, for her story "Camila Pitanga"
HONORABLE MENTIONS
Pat Spears of Tallahassee, Florida for his story: "Free Ride"
Carmel Lillis of Victoria, Australia for her story: "Choir Voices"
Jim Minick of Rural Retreat, Virginia for his story: "Who Cooks for you?"
Alex Reese Abbott of York, United Kingdom for his story: "Think No More of the Sea"
Brenda Downing of Western Australia for her story: "Last Days"
Meera Kothandaremaraju of Singapore for her story: "Meat"
Matthew C Johnson of Decatur, Georgia for his story: "The Cicada Catcher"
Peter H. Denton of Hillsborough, North Carolina for his story: "The Republic of Suffering"
Patricia Perry Donovan of Manasquan, New Jersey for her story: "Still Life"
Ricky Brown of Edinburgh, Scotland for his story: "Jinky"
Dara Kell of Astoria, New York for her story: "Folly at Roosevelt Island"
Miriam Bloomfield of Tucson, Arizona for her story: "Trespassing"
Debi Hamilton of Victoria, Australia for her story: "National Catalytic Converter Breakdown Day"
Tanya Farrelly of County Wicklow, Ireland for her story: "Why, Molly?"
Darren Bulhak of New York, N.Y. for his story: "Red in B minor"
Eileen Hergert-Goodall of Queensland, Australia for her story: "End of the Road"
Brian Patrick Heston of Atlanta, Georgia for his story: "Emily's Garden"
Katherine Koller of Edmonton Alberta, Canana for her story: "The Exchange"
Tom Szendrei of Bertsham, South Africa for his story: "Blood Moon"
Lorraine Wilson of Fife, Scotland, U.K. for her story: "Signs and Omens"
W.R. Widerberg of Dover Heights, Australia for his story: "Sunday Morning at the Bay"
Jodi Lew-Smith of Hardwick, Vermont for her story: "The Portrait: Cogniac Street 1815"
Mark Brandi of Victoria, Australia for his story: "Pensioner's Concession"
Karen Laugesen Russell of Encinitas, California for her story: "Fishing"
Jules McKeen of Buckinghamshire, England for her story: "The Suitcase"
Kate Bullard Adams of Charleston, South Carolina for her story: "Acqua Alta"
Amy Pechukas of Brooklyn, New York for her story: "Ramon"
Lee Varon of Cambridge, Massachusetts for her story: "Crazy for Pearls"
June Caldwell of Dublin, Ireland for her story: "Proverbial"
George Bandy of Alexandria, Virginia for his story: "Le Tour de Bicyclette"
A. Reinecke of Lafayette, California for her story: "Smart Above the Shoulders"
Hal Ackerman of Los Angeles, California for his story: "Twenty-Seven Mood Swings to Moab"
Jeff Droubay of Upland, California for his story: "Melley's Fire"
Susi Fox of Victoria, Australia for her story: "Cold Currents"
Molly Sturdevant of Chicago, Illinois for her story: "June"
Michelle Wright of Victoria, Australia for her story: "Summertime"
Lisa A. Mahoney of Key West, Florida for her story: "Girls with Ponies"
Rebecca Rose Moody of Nashville, Tennessee for her story: "Bowerie"
Adam Stanley of Rome, Georgia for his story: "Still Life with Plastic Roses"
Judy Neel of Haines, Arkansas for her story: "Rhubarb"
Bree Barton of Pasadena, California for her story: "Simon Who is Lost"
Marie Vernon of St. Augustine, Florida for her story: "Lilith"
Allison Torem of Chicago, Illinois for her story: "Bernard Isn't a Name"
Karen K. Ford of Los Angeles, California for her story: "Nature"