Lorian Hemingway Short Story Competition 2021
Winners and Honorable Mentions
Dear Writers:
Our 2021 competition, now in its 41st year, received 776 entries from the United States and throughout the world, including Finland, Thailand, Denmark, Germany, France, Spain, Australia, Iceland, Japan, India, and Portugal, to name a few.
Our First-Place Winner will receive a cash prize of $1,500 and publication of the winning story on our website. Second- and Third-Place Winners will receive a cash prize of $500 each.
My deep gratitude and heartfelt thanks go out to all who entered, and to those who struggled with illness while trying to submit their stories by our original deadline. We moved the deadline ahead at the request of quite a number of writers so they might have time to both recuperate and work on their story submissions. It was a tough year for so many and you all endured it with grace and kindness. Thank you for once again entrusting your stories to our care, and thank you for your immense patience this year as we navigated yet more uncharted waters. You're the best.
Your stories, as always, touched me deeply on so many levels, and they are so often a bellwether for what is happening in the world. To paraphrase Bob Dylan, one doesn't need a weatherman to know which way the wind blows. But I daresay that you can gauge what is happening in the world — both externally and internally — by reading hundreds of stories from throughout the world. This year your stories so often spoke to me collectively, and through your unique voices I heard these words: "I am still here. Do you see me? Can you hear me?" Melodramatic perhaps? I think not. Your stories so often conveyed the aftershock of survival, what it meant to pick up the pieces of so many lives and move forward. No matter what the chosen method used to frame this theme, it was definitely there this year. Your courage. Your vulnerability. And the immense power behind owning that vulnerability in print. Over four decades of reading your work you have taught me so very much. This year you reminded me in so many exquisitely resounding voices that it was okay for my heart to break. That it was okay that I survived. How could you not be my heroes? Because you truly are. I have said it before, but this year especially it bears repeating. Please keep writing. The world needs you.
– Lorian
***
I am grateful to the following amazing people who have given of their time and energy and love to help the competition:
My very special thanks to Brandi Reissenweber for helping me throughout the long reading process and for being absolutely vital in helping to choose the winners and honorable mentions. Her keen eye and dedication to the spirit of the competition are invaluable.
My deep and abiding thanks to my friend, the wonderful and gracious Carol Shaughnessy, who read the winning story in Key West on July 20 during the Hemingway Days Festival, as part of the annual awards ceremony for the Lorian Hemingway Short Story Competition.
Thank you to Father John Baker, priest of St. Mary's Star of the Sea Basilica in Key West, for giving a beautiful blessing during the awards ceremony to the writers who entered our 2021 competition.
Thank you to Andy Newman for your kindness and friendship all these years.
Thank you to Megan Woo for our beautiful website!
For their dedicated and enthusiastic help in the reading process my thanks go to Brandi Reissenweber, Dr. Elise Holt, Carole Hemingway, and Jan B. Wright.
***
Our 2021 competition is dedicated in loving memory to Steven Schlotzhauer, his beloved niece Faith Noelle Vance, and Sherman Woo. Each was a fine writer. And each an even finer human being. You are deeply missed.
***
Below please find our list of winners and honorable mentions.
FIRST-PLACE WINNER: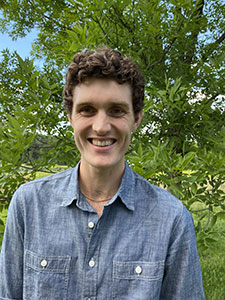 Nick Henke
St. Louis, Missouri
For his story: "A Lot of Carrefours"

SECOND-PLACE WINNER:
Robert Herbst
Chicago, Illinois
For his story: "Abiquiu"
THIRD-PLACE WINNER:
Natalie Poulson
Ontario, Canada
For her story: "A Multitude of Sins"
HONORABLE MENTIONS 2021:
* Please note that Honorable Mentions are listed in no particular order.

1) Krista Jane May
Saskatchewan, Canada
For her story: "Valid Times"
2) Jill Koenigsdorf
Sonoma, California
For her story: "Ghost Ranch Duet"
3) Zilla Jones
Winnipeg, Canada
For her story: "Not Your Fault"
4) David Micklem
London, United Kingdom
For his story: "Bleeding Hearts"
5) Robyn Thomas
Ontario, Canada
For: "Crow"
6) Eloise A. Chakour
Montreal, Canada
For her story: "Bitter Medicine"
7) Tara McCotter
Wood-Ridge, New Jersey
For her story: "Red Nails"
8) Brady Huggett
New York, New York
For his story: "Triptych"
9) Vago Hanna Dorka
Budapest, Hungary
For: "Group therapy for tangerines who lost themselves"
10) Liliana Lule
Evanston, Illinois
For her story: "Shotgun"
11) Teri Liptak
Tyler, Texas
For: "The Long Road"
12) Monica Montero Lim
Madrid, Spain
For her story: "L'Ascenseur"
13) Catlyn Ladd
Longmont, Colorado
For her story: "Crocodile Tears"
14) Kira Wallace
Palo Alto, California
For her story: "Interlude"
15) Stephen Strickler
New Market, Maryland
For his story: "Hush Little Baby"
16) Graciela King
Chicago, Illinois
For her story: "Frannie's Way"
17) Amy Blum
Flower Mound, Texas
For her story: "When the Night Ends"
18) Tamako Takamatsu
Tokyo, Japan
For her story: "Demons and Monkeys"
19) Laura Hulbert
Brooklyn, New York
For her story: "A Bridge Too Far"
20) Brian J. Condike
Big Pine Key, Florida
For his story: "Bad Luck Blood"
21) Michael Franich
Milton, Washington
For his story: "Parts and Pieces of a Life"
22) Patrick Holloway
Cork, Ireland
For his story: "The Changing Light"
23) Amber Fenik
Ontario, Canada
For her story: "A Stitch in Time"
24) Zilla Jones
Winnipeg, Canada
For her story: "What Normal Used to Look Like"
25) Constance Sommer
Los Angeles, California
For her story: "Mother's Day"
26) Ronald-Stephane Gilbert
Beachwood, Ohio
For his story: "Law and Disorder"
27) Karen Stone
Seattle, Washington
For her story: "Crash"
28) Wannika Kuankachorn
Bangkok, Thailand
For her story: "The Advertising Screen"
29) Melinda Goodman
For her story: "Daytona"
30) Nyla Bajaj
Mumbai, India
For her story: "You Break It, You Buy It"
31) Rick Naymark
For his story: The train station in the rain"
32) Liz Rosen
Easton, Pennsylvania
For her story: "Even a Fat Girl You Could Want"
33) Haley Kennedy
For her story: "Anima"
34) Todd Mann
Forney, Texas
For his story: "The Ballad of Mama Desper"
35) Christine Arroyo
For her story: "The Laundromat"
36) Evon Davis
Denver, Colorado
For: "The Droughts of Kilimanjaro"
37) Nancy McAtavey
Dover, New Hampshire
For her story: "The Chair"
38) Chester Williams Needham
Maryville, Tennessee
For his story: "The Sounds of Ashes"
39) Izzy Salas
New York, New York
For: "Different People Now"
40) Sarah Goldstein
Los Angeles, California
For her story: "Starving for Attention"
41) Nina Weinstein
Redmond, Washington
For her story: "Repeat After Me"
42) Rosanna S. Gargiulo
Dresden, Maine
For her story: "Every Urge Opens"
43) R.A. Solomon
Newtown, Wellington, New Zealand
For: "From Where the Kereru Sings"
44) Anneliese Schultz
British Columbia, Canada
For her story: "For Now"